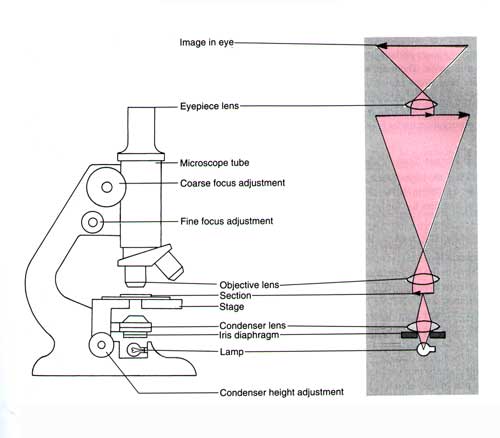 Light microsocopes are used to see details, and enlarged images of small objects.
Enlarging an image is called magnification.
The amount of fine detail that can be seen is called resolution.
Light is focused onto the specimen (i.e. the histology slide) by a condenser.
The image produced is magnified by a combination of the objective lens and the eyepiece lens.
Usually, the eyepiece lens gives a x 10 magnification.
Three objective lenses are usually used: x10, x40 and x100.
The x100 lens is usually an oil-immersion lens - you need to view the sample through a drop of oil.
It is difficult to see much detail in live cells under the microscope, because cells tend to be colourless and transparent. This is why cells are often fixed and stained for microscopy. Find out about histological sections for the light microscope.